Nak jadi deejay??
February 14, 2011
By Misz Nadea
hehehe....sebenarnya ngah putus cinta tapi... nak ubah sikit lah mood malam nie..so nak ajak korang semua share satu ilmu yang korang2 mungkin ada yg tahu..n ada yg tak tahu... deejay redio...
radio on9..hehehe..mana2 yang berangan nak jadi deejay tuh..leh lah training kat sini..agak2 dah terer barulah korang p kat stesen sebenar..heheheh!!~:D
okey... nak jadi deejay radio on9 nie senang jerp..tak yah belajar tinggi2..hehehe!!~
apa yang korang perlukan adalah... jap nak bgtahu... ada dua cara yg akan sy tunjukkan... menggunakan 2 jenis software...tp... untuk kali nie..sy ajar gune Winamp Shoutcast dulu k ( kepada otai yang tahu pasal nie..andai sy salah infomation ke...sila tegur k )
alat2 yang diperlukan :


yang penting adalah..lagu2...pastikan anda ada lagu minima 100 buah... dan internet anda mestilah tak lembab sangat...
okey... anda kene pastikan anda dah ada winamp..tahukan winamp tuh apa???? tak tahu?? adess... p tanya pakcik google... pas dah ada winamp..korang kene pastikan korang dah dunload shoutcast winamp tuh.... takpalah.. saya kasi gak link untuk korang dunload winamp nie..kot2 ada yang takda... nie dier.. link untuk winamp..klik -----> Winamp ( amik yg free )
kat sini plak..link untuk korang dunload shoutcast... klik -----> Shoutcast korang dunload je terus... winamp tu pas dunload..install tau..tak yah sy ajar la ea..wat mcm biasa... okey..pas dah install winamp n dunload shoutcast.. korang ikut prosedur ni.. yg kat bawah nie.. :-
1.

Bukak Winamp dan pergi : Options >> Preferences
okey kat lam preferences tu...korang nengok kat bahagian kiri tuh.. klik dekat
DSP/Effect dan klik
'Nullsoft SHOUTcast Source DSP'" dan akan kuar satu lagi window
yang bernama 'SHOUTcast source
' (macam kat bawah ni ha). so..preferences tuh boleh tutup balik..tp shoutcast source tuh jangan tutup plak....
2.
kenalpasti apa yang ada lam Shoutcast Winamp tuh.
a) First of all, click kat Output tab at the top dan make sure that 'Connection' is selected (tick dekat connect at startup).
This is where you put in the info that you were sent when your SHOUTcast account was activated.
kat bahagian tab connection tuh... anda kene isi semua tempat kat masukkan Output Configuration Address ataupun i.p radio tu lah... kemudian masukkan dia nye port dan juga password stesen anda... okey encoder tu plak pastikan dia sentiasa berada di No. 1... pastikan di klik pada kotak Automatic Reconnection on Connection Failure... dan kene pastikan yang bawah sekali di isi 0 seconds... okey.. faham kan step memula nie..????? Now ke step yg ke 2 plak....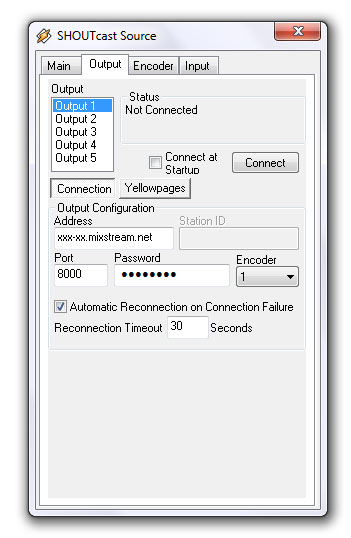 b) Click on the Yellowpages button.
Nie lah tempat korang maklumat tentang korang n radio korang. Note: You must enter a Description and Genre to appear on the SHOUTcast directory - don't keep it as the default name or you won't be listed.The Description and URL can be set in our SHOUTcast control panel to override these settings if you have multiple DJs and wish to keep the settings constant. (faham tak ckp omputih nie???)
pastikan tick pada Make this server public (recommended) dan isi kan tempat2 kosong :-
description : PanasFM gegar dan memanaskan
Url : http://www.PanasFm.com
Genre : dj Nani
AIM : N/A
ICQ : 0
IRC : kalau anda ada cenel masukkan nama cenel anda.. contoh #Blogger ChatRoom
tick kan pada Enable Track Title Updates
Title --------------- tick pada Auto
URL --------------- tick pada Auto
okey ni saja untuk bahagian nie
c) klik kat encoder tab.
Nie tempat kamu set bitrate kat redio korang. Pastikan dekat Encoder tu pilih Encoder 1.
Encoder Type pilih MP3 Encoder
Encoder Settings terus pilih 24kps, 22.050kHz,Mono
*malas nak tunjuk n jelas semua kat situ..ikut jerp yg sy gune ni*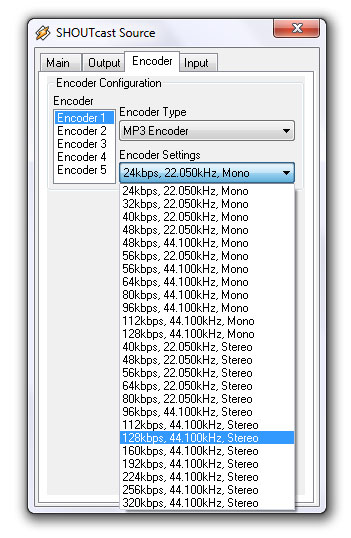 d) Klik kat Input tab.
Ni lah bahagian untuk select the source of your audio. If you are streaming music straight from Winamp, then select Winamp for the Input Device like this:
Maksudnya kat sini kalau korang just nak putarkan lagu...pastikan Input Configuration Input Device tuh sentiasa terletak di Winamp (Recommended).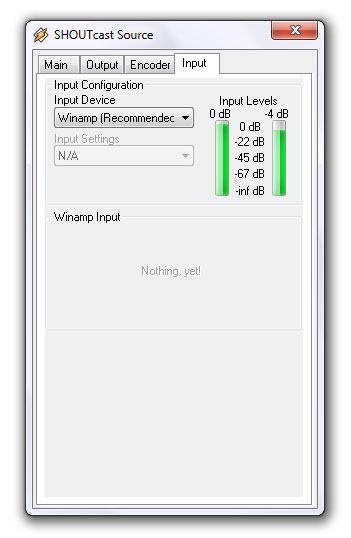 However, if you are DJing live with external equipment (turntables / CD player / mixer etc) or hosting a talk show, then you will have to select the Soundcard Input: (kalau nak bercakap baru pilih....Ingat nak bercakap baru tekan Soundcard Input)
Inout Setting : 44100Hz, Stereo
Mic Input : Click kat Microphone
Line Input : takyah click paper
Untuk perlarasan kat bawah tuh..korang leh setting sendiri...tp better korang ikut saya nyer setting k..
BG (bAckground Music) : -11db
Fade Time : 500ms <----- okeyyy!! ~ :D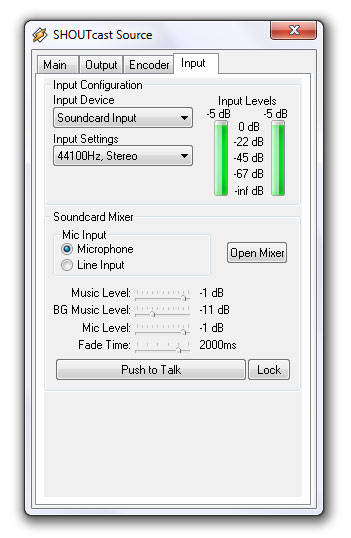 e) You are now fully set up and ready to stream your audio across the net.
3) Connect to your server

To connect to your server, click semula kat Output tab again dan click Connect -
you will see a counter start inside the Status box - this means that you have connected to your SHOUTcast server successfully. (faham kan?)
Ni adalah sikit tips yg dapat di share...malas nak translate..korang baca sendiri k....
A few extra notes for people who have selected Line In as their Input Device
You may have to configure the mixer on your PC - to do this, go to the Input tab and click on Open Mixer. Two windows will appear (Volume Control and Recording Control). Close Volume control, as this is not needed.
Ensure that the Line In box is ticked and that the volume is at a suitable level - on my system in particular the level control is very sensitive - the best way to test this is to use the in built Input Level meter in the SHOUTcast Source plugin (Input tab).
You can also select the Stereo Mix box (some PCs may not have a Line In selection), however your listeners will also hear any sounds made by your PC such as web pages or other applications like MSN. Best to disable all sounds in this case.
Now you need listeners! Go out and promote your station
There are many ways of promoting your station and it's not possible to go into them all here, getting link exchanges with websites related to the kind of thing you broadcast, posting on forums and word of mouth (set up a Facebook group and get your listeners to join up and tell their friends) are generally successful. We also list your station at StationFinder.org and have plans to join up with other station directories in order to list customer streams.
SELAMAT MENDEEJAYYYY !!! :D